Welcome to the Spring Term!
Apologies that this page had not been updated since Christmas; I have been so enthusiastic about Class Dojo (and thank you to everyone who has signed up) that I have neglected our website page.
I will use this page to give general outlines of what is happening across the week in Crenver Class whereas Class Dojo will be for updates during the week, reminders and notices and hopefully full of photos of superb learning experiences too.
We are focusing on fractions in maths this term which can be a tricky topic for many. A solid knowledge of multiplication tables is important and any extra practice of those that they do not yet know would be very useful. This week we have been comparing and ordering fractions. Both year groups have learned how to order fractions with different denominators; the Y5s have learned to convert denominators which are multiples of each other and the Y6s have worked on fractions whose denominators are not multiples of each other. Next week, we will move onto adding and subtracting and then multiplying and dividing fractions.
In English, we have been working on persuasive writing and are currently rewriting sections of our school prospectus to encourage more children to come to our wonderful school. This has linked with their work on Youth Speaks as they are putting the persuasive features into action.
PE is now on a Thursday (yoga) and a Friday (netball) in a slight timetable change now that swimming has finished.
Somehow we have reached the last week of term! In case I don't get a chance to say it personally, I hope you all have a restful and relaxing Christmas break and thank you for all your support since September.
Thank you also for enthusiastically signing up (or reactivating) your ClassDojo accounts; I shall try to share as much of the children's learning as possible on the class story or directly through the messages for now.
The children have completed a real variety of writing recently: slam poetry (which many of you enjoyed at the assembly); instructions for making the beautiful stained glass-style lanterns; letters from Father Christmas in the style of JRR Tolkien (pictures soon to follow on ClassDojo).
In maths, they have consolidated their understanding of the different methods for calculations, looked at square, cube and prime numbers and investigated BODMAS (or BIDMAS if you prefer) and how they can use facts which they know to extrapolate answers to other problems.
I will not be setting any 'official' homework over Christmas; however, it is vital that all the children know as many of their times tables as possible so if you are stuck for something to do over the holidays (!) then please focus on memorising any of the tables of which they are not sure. This week there will be a mixed spelling test of words from the term so far and this will also be the case for the first week back.
Let us not finish on homework however! Next term's initial topic is history based, looking at Britain between the Stone Age and the Iron Age; in Science we will be investigating forces to answer the Big Questions: how do forces affect moving objects? Our Art focus is printing and in Geography we will study land use and the distribution of natural resources. Exciting stuff!
Friday 15th November
Another busy week in Crenver Class this week! Y6 took part in their Bikeability training (in some pretty terrible weather at times!) and were praised as one of the best groups the instructor had worked with! Maths brains have been working flat out as the class tackled the process of long multiplication with great success. This is a reasonably complex process with plenty of steps and opportunities for errors but they all showed amazing determination to prove their understanding.
This image (taken from www.theschoolrun.com/what-is-long-multiplication) explains the method clearly which might come in handy for this week's homework.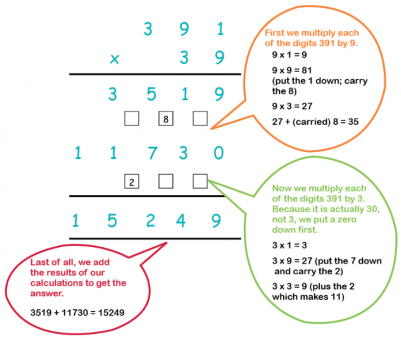 In Literacy, the children have written a discussion text about some big questions affecting schools at the moment. Once these are finished off in best, we shall deliver them to the Executive Leader of our Trust, Donna Bryant, to give her the thoughts of the children on issues like homework, mobile phones and plastic usage in schools.
The children are developing into expert map readers after they combined their knowledge of the grid reference system and OS symbols with using a compass this week to follow treasure trails and create maps of their own.
I have re-issued the same spellings to the majority of children this week as we had less time to work on them in school; there are some tricky words and they will benefit from some extra focus on them across next week.
It has been a great week back for Crenver Class and I have been really impressed with their focus and attitude towards their learning. We have started work on discussion texts, learning the language, vocabulary and structure needed and also tried out this new knowledge debating all manner of controversial ideas. On Friday, the children used their creative writing skills inspired by 'To Autumn' which will soon be arriving on the display board in the main entrance for you all to enjoy.
In maths, the children covered several areas all linked to multiplication; finding multiples and common multiples and multiplying and dividing by multiples of 10. The next few weeks of maths are focusing on written methods of multiplication and division; these methods may look scary but are straightforward processes to follow as long as the children can use their multiplication knowledge as well. If you are stuck for any extra homework, I heartily encourage times tables practice!
We started the new science topic of properties and changes in materials by looking at some of the important vocabulary we will encounter and devising ways to remember some rather complex words and concepts. In art, the children have been painting some imaginative hats which I am sure they will soon wear with pride.
I also had the chance to go swimming this week and it was really nice to see all the children being fantastic ambassadors for Crowan school through their behaviour and attitude.
Finally, I have included some pictures below of just some of the brilliant pieces of poetry the children composed on the last day before half term. We focused on creating juxtaposition through proper and abstract nouns and being as creative as possible in the language.
Friday 11th October
This week in Crenver the children have been working hard on different narrative techniques such as creating imagery through metaphor and personification and understanding how to create detailed sentences and action sequences. Today they wrote stories about volcanic eruptions that pulled together all these ideas as well as all the vocabulary and understanding they have built up across the topic this term.
In maths, they have consolidated their understanding of column subtraction and then moved on to practise using addition and subtraction as inverse operations to solve problems.
In our topic lessons they have learned about life in earthquake zones and now know what to do if Cornwall gets struck again any time soon! They then used this understanding to build some models of buildings that could survive an earthquake: very few failed!
In RE the children explored ideas of creation and whether Christianity and science are complimentary or conflicting.
I have included some pictures below (hopefully) that show them hard at work last week creating our magnificent volcano display (with special thanks to Mrs Winder as well).
It was lovely to meet so many of you properly during the parent evening meetings this week and I am sure that the positive start the children have made will continue all year!
Welcome to Crenver Class 2019/2020
Better late than never, welcome to the new school year in Crenver Class. Apologies for taking so long to post an update but from now on I will endeavour to blog weekly on all that has happened across the week.
Firstly, I must say a huge 'thank you' to all the children who have flown in ready to learn with enthusiasm and great amounts of effort so far. It has been great fun getting to know them and I look forward to discussing them at Parents Evenings next week (letters home about this on Wednesday).
Our topic this term has been (and still is) 'Natural Disasters'; we have been focusing on volcanoes and are now expert volcanologists (?). Their excellent, detailed explanations of volcanoes will be ready for you to enjoy when you come to the Parent Evening appointments.
As well as that, today the children have made their own volcanoes which we erupted outside Mr Hunkin's office with noise levels that may well have matched a real eruption... Hopefully you can see the pictures on this page.
I hope to meet many of you in person next week and if you are unable to make any of the appointments, please do let me know so that we can arrange a more suitable time.
Mr Goad